Members of British Pugwash were delighted to participate in a ceremony on 6th November 2017, in which a plaque honouring Sir Joseph Rotblat was unveiled on the corner of Bury Place and Great Russell Street, London (WCIB 3BJ).
The event was organised by Polish Heritage Society UK, to commemorate Sir Joseph's life and his important contributions in the areas of science and politics.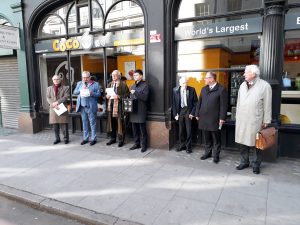 The ceremony was attended by Polish Ambassador to London, Arkady Rzegocki; Sir Joseph's niece, Frances; Astronomer Royal Lord Rees of Ludlow; Camden Mayor Richard Cotton and many more.
We also note the Polish cultural podcast 'Stories From the Eastern West' took the opportunity to profile both Sir Joseph and the Pugwash Conferences on Science and World Affairs. You can listen to this here.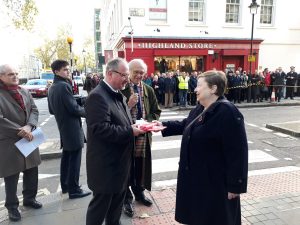 Speaking at the ceremony, Peter Jenkins, the Chair of British Pugwash, said:
"Several British Pugwash members here today had the privilege and good fortune to know Sir Joseph Rotblat, one of the founders of the Pugwash movement, and winner of a Nobel Peace Prize in 1995. To my regret I am not one of them. Nonetheless, I can't help sensing from what I have read and heard about him that, were he still with us, he would be disappointed and worried by the world of 2017. Disappointed because the promise of the late 80s and early 90s has not been fulfilled: the United States and Russia still retain some 7000 nuclear warheads each and are in the process, in the US case, of spending well over $1 trillion to modernise delivery systems and maintain warheads. And worried because since 1991 the United States has become the most belligerent and bellicose of the major powers, spending on its military establishment far greater sums than any other power, maintaining bases or a military presence in over 150 states and regarding the use of force, with or without authorisation from the UN Security Council, as an acceptable way of settling disputes and achieving political ends.
So, I suggest, there can be no question of British Pugwash resting on the laurels that Sir Joseph won for it. On the contrary, we owe it to his memory to re-dedicate ourselves, on this special day, to the mission to which he devoted much of his life: the elimination of weapons of mass destruction, the peaceful settlement of disputes and the abolition of war."
To listen to a podcast about Sir Joseph's life, check out 'Stories From the Eastern West' here.