The movement known as Pugwash Conferences on Science and World Affairs is an international network that brings together scientists and others to work towards the elimination of weapons of mass destruction by contributing to scientific, evidence-based governmental policy-making and by promoting international dialogue across divides.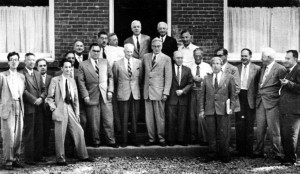 The Russell-Einstein Manifesto, released on 9 July 1955, called for a scientific conference to assess the dangers to humanity posed by nuclear weapons. Cyrus Eaton, a Canadian philanthropist, offered to host the conference in the town of his birth, Pugwash, Nova Scotia. The first conference was held in July 1957 at what became known as Thinkers' Lodge. Twenty-two scientists attended.
Since 1957 there have been many such conferences, organised by an international secretariat, bringing together experienced figures from the worlds of science and public affairs. The Pugwash movement now has national groups in over 30 countries. National group members contribute to projects and to conference discussions as individuals and not as representatives of any government.
The movement's influence has been enhanced by its reputation for scientific integrity and lack of bias. Pugwash working groups contributed to the elaboration of the Partial Test Ban Treaty ('63), the Nuclear Non-Proliferation Treaty ('68) and the Chemical Weapons Convention ('93).
Pugwash was awarded the Nobel Peace Prize in 1995, together with one of its founders and most inspirational figures, Joseph Rotblat, in recognition of "efforts to diminish the part played by nuclear arms in international affairs and, in the longer run, to eliminate such arms".
British Pugwash has been and continues to be one of the movement's most active national groups. Become a member today.