Date / Time: Wed 20th January, 7pm – 8.15pm
Registration: https://tinyurl.com/y2qzpmcr
Oxford Student/Young Pugwash's next event will feature Dr. Darren Byler and Rahima Mahmut, discussing China's deployment of digital surveillance technologies against Muslim minority groups and the experience of the Uyghur people.
Dr. Byler (here) is a postdoctoral researcher at the Center for Asian Studies at the University of Colorado, Boulder, where he researches technopolitical systems in China and around the world.
Rahima (@MahmutRahima) is a Uyghur singer, human rights activist, and award-winning translator of the poignant prison memoir The Land Drenched in Tears by S. Chanisheff. She recently worked as a consultant for the ITV documentary Undercover: Inside China's Digital Gulag.
---
Introduction by Oxford Student/Young Pugwash: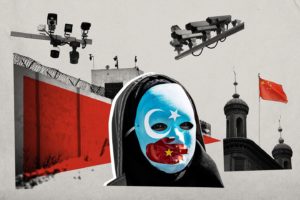 The Uyghurs are a Turkic speaking Muslim minority group in China. Native to the western region of modern-day China, the Uyghers live with other Muslim minority groups in the area officially known as the Xinjiang Uyghur Autonomous Region of China. The name Xinjiang, coined during the Qing Dynasty, means "new territory" in Mandarin. Believing this undermines the native inhabitants and their autonomy, many Uyghurs around the world refer to the region as East Turkistan to better capture their cultural identity.
—
Due to their faith and cultural differences, the Uyghurs are often discriminated against by the Han majority in China. In recent decades, the Chinese Communist Party (CCP) has implemented a crackdown on the Islamic faith, alleging their actions are necessary in the interests of anti-terrorism. As the most centralized Muslim minority group in China, the Uyghurs were the first victims. Large detention camps were setup to "re-educate" the Uyghur Muslims, and more recently, the entire East Turkistan (Xinjiang) region has become one of the world's most sophisticated surveillance states.
—
The streets are surveyed by one of the highest number of police and security check points of nearly any place in the world, and they are watched over by one of the world's largest surveillance camera network. In addition, according to reports from credible news outlets such as the New York Times, the CCP is using facial recognition technology to keep close tabs on many Uyghurs, taking away their privacy and violating their rights.
---
Missed registration?
If you have failed to register, please just join on the day via: us02web.zoom.us