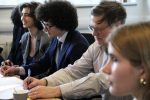 Throughout March, Student/Young Pugwash (SYP) UK is running a series of online 'peace workshops', bringing together international researchers and policy practitioners to discuss opportunities for international co-operation, arms control and peace.
All are welcome. Details below.
---
Keynote: Dr Lassina Zerbo (Chief Exec, CTBTO), in conversation
Our keynote speaker is Dr Lassina Zerbo, Executive Secretary of the Comprehensive Nuclear-Test-Ban Treaty (CTBT) Organization.
He will be speaking about prospects for the CTBT and wider arms control, on Wed 17th March at 4pm GMT (UK). Register here
---
Russia and the West: Opportunities for co-operation?
Wed 10th March // 2pm GMT (UK) // Register here
Speakers include:
Marion Messmer (BASIC, UK) – 'Trust building between Russia and US: a necessary precondition for future cooperation' – Bio here

Segei Rastoltsev (IMEMO, Russia

) – 'Post-Soviet Space Protracted Conflicts in the Russia-West Security Relations' – Bio here
William Moon (Simson Center, USA) – 'Cooperative Nuclear Weapons Reductions – A New Paradigm to Roll Back Nuclear Weapons and Increase Security and Stability' – Bio here
---
Cyber and digital technologies in warfare – Responsibility and control
Wed 17th March // 5pm GMT (UK) // Register here
Speakers include:
Shira Cohen (Israel SYP) – 'Cyber arms race: From War Zones to Agreements'

Dr Lyndon Burford (KCL, UK) – 'Blockchain in nuclear arms control verification'

Natalya Samoylovskaya (Russian SYP) – 'Opportunities and challenges for EU and Russia cooperation in AI research and development'
---
The Nuclear Ban Treaty (TPNW) – Successes, values and omissions
Wed 24th March // 3pm GMT (UK) // Register here
Speakers include:
Dr Rebecca Johnson (ICAN UK) – 'The Treaty and the campaign behind it'

Ekaterina Lapanovich (Ural Federal University, Russia) – 'The Quest for Change: Nuclear Deterrence, Nuclear Norms and the Nuclear Ban'
Virginia Marie Kerr (

Middlebury Institute of International Studies, USA)

– 'Atomic Erasure: Visibility and Inclusion in the Treaty on the Prohibition of Nuclear Weapons Weapons'
---
Nuclear arms control in 2021 and beyond
Wed 24th March // 5pm GMT (UK) // Register here
Speakers include:
Ezra Friedman (International SYP) – 'The JCPOA 2.0 Conundrum' 

Harry Spencer (Leicester University, UK) – Strategic Dilemmas for Nuclear Arms Control in the "New Era of Counterforce" 

Kanica Rakhra (Indian Ministry of External Affairs) – 'Talking Past Each Other: Track 1 Nuclear Initiatives'
---
The workshops are held in the spirit of SYP UK's Annual Conferences (here) and International SYP's biennial conferences (here). Some of the sessions will be held under Chatham House rules