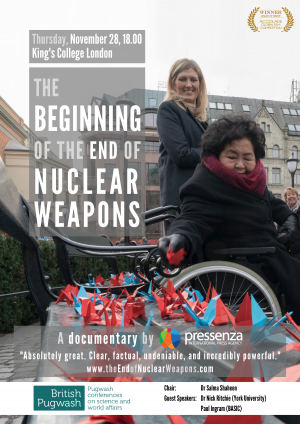 Unfortunately, due to high demand, tickets are no longer available for this event.
——-
British Pugwash will screen the new, hour-long documentary – The Beginning of the End of Nuclear Weapons – about the ideas and campaigners behind the Treaty on the Prohibition of Nuclear weapons.
Trailer here: https://www.youtube.com/watch?v=l3_bKtdtqRM&t=1s
Following this, Dr Salma Shaheen (War Studies, KCL) will chair a discussion between two Pugwash members: BASIC's Paul Ingram (a friendly critic of the Treaty) and KCL's Dr Lyndon Burford (Treaty supporter)
This is a public event – Open to ALL!
—————
Time/Date: 6pm to 8pm, Thurs 28th November 2019
The venue is Room K3.11, King's Building, Strand Campus, The Strand, London, WC2R 2LS
Register free here: https://ban-treaty-kcl.eventbrite.co.uk
—————
Background on the 'Nuclear Ban Treaty' – https://en.wikipedia.org/wiki/Treaty_on_the_Prohibition_of_Nuclear_Weapons
Dr Shaheen's latest book – Nuclear Command and Control Norms – https://www.amazon.co.uk/Nuclear-Command-Control-Norms-Comparative/dp/1138349291
Dr Burford's staff page – KCL – https://www.kcl.ac.uk/people/dr-lyndon-burford
Paul Ingram's staff page – British American Security Information Council – https://basicint.org/our-staff/paul-ingram/