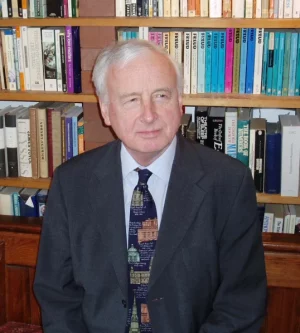 With great sadness British Pugwash learned of the death of a former chairman, Dr Christopher Watson, on 17 August.
Christopher had a career spanning 35 years in the UK nuclear industry, including 17 years at Culham, working on Controlled Fusion research (culminating in 5 years on the JET project). He then worked as a research manager, first in Offshore Technology and then in Nuclear Robotics, before becoming the Business Development Manager for AEA Technology in Russia, a task which involved developing collaborative programmes with Russian colleagues in the management of the nuclear legacy of the Former Soviet Union. Following his retirement in 2002, he was a consultant to the UK government in a range of aid programmes, including its programme on the nuclear legacy in NW Russia (nuclear submarines and their spent fuel and radwaste) and the Closed Nuclear Cities Partnership programme.
Christopher started participating in Pugwash meetings in 1969, was a member of the British Pugwash Executive Committee from 2002 to 2022, and was chairman from 2011 to 2017. In that role, notably, he helped British Pugwash to diversify into Energy Policy and explored the feasibility of creating a British Disarmament Institute to harness non-governmental expertise to the promotion of global nuclear disarmament in accordance with the Nuclear Non-Proliferation Treaty. He represented British Pugwash on the International Pugwash Council from 2013 to 2022.
Christopher helped produce many Pugwash Reports including
The Management of Separated Plutonium in the UK 2009
Verification of Nuclear Weapon Dismantlement 2012
Pathways to 2050 2013
Realising the Disarmament Institute (BRINDI) 2015
Climate Change and the DECC Global Calculator  2015
The current Chair of British Pugwash, Peter Jenkins, knew Christopher well:
Christopher's loss will leave a gaping hole at the heart of British Pugwash. His intellectual contribution to our quest to build on the work of Sir Joseph Rotblat, winner of a Nobel Peace Prize, has been immense. Both as chairman of British Pugwash and as a member of the executive committee he has been the kindest, most considerate and best humoured of colleagues. 
As if his contribution to British Pugwash were not enough, for more than a decade he represented us on the Council of International Pugwash and at meetings of the movement's European groups. In those circles he was highly respected for his knowledge of nuclear matters and for the power of his intellect, but also held in deep affection by many. He hosted and presided over the European groups' last meeting before the Covid pandemic, in Bristol in 2019. The constructive and friendly spirit that characterised the meeting was a tribute to that respect and affection.
We shall all long remember a man whose friendship we shall miss and whose passing we mourn.
Dr Christopher Watson was Emeritus Fellow, Merton College, Oxford University,  Researcher in Theoretical Plasma Physics, Culham Laboratory/Oxford University; Business Development Manager in Central & Eastern Europe for AEA Technology; Senior Consultant to the UK/Russian Closed Nuclear Cities Partnership; Head of Project Control Office, Joint European Torus Project.
British Pugwash has established a fund in Christopher's name which will support charitable work in his memory.  The fund will be held on behalf of British Pugwash by the Joseph Rotblat Memorial Trust (JRMT).  Donations to this fund can be made directly to JRMT's bank account (Account: Joseph Rotblat Memorial Trust, Sort Code 20-74-63, Account No 50630632, SWIFTBIC BUKBGB22, IBAN GB44 BUKB 2074 6350 6306 32), or alternatively by credit or debit card through the PayPal button below: